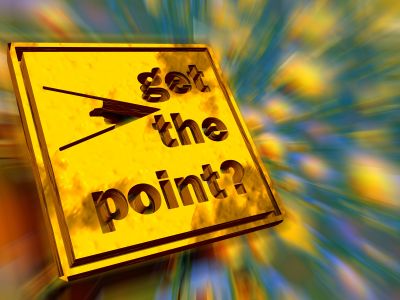 It's a sure sign there's a newbie at play.  Anytime I click to a website and begin to read copy that states the obvious, I know the site owner has written his/her own copy or a copywriting novice has been at work.  You know what I'm talking about.  Comments like:
Candles add a warm glow to every room and bring soothing relaxation.
Really?  I didn't know candle would glow? <sarcasm>  Opening comments like these take up valuable real estate on your sales pages that could be filled with compelling copy.  People already know candles give a warm glow.  They know they are soothing and can smell nice and create a romantic atmosphere.  They also know water is great for feeding plants and quenching your thirst.  Using the first lines of your website to tell people what they already know is a pitiful way to welcome people to your site.
Let's say you're selling truly unique, scented candles.  Perhaps the opening sentence could be something along the lines of:
Why settle for ordinary when your home can be filled with distinctive scents such as rich café late, light sea breeze or decadent Italian cannoli? These and other rare delights are yours when you shop The Candle Website.
A Stronger Connection Means More Conversions
With this easy target audience discovery worksheet & video, you'll have a handy tool that helps all your copy & marketing efforts hit the mark!
I understand that I will also receive weekly articles & videos plus periodic discounts, product notices & more. I can unsubscribe at any time.
Now that gets your attention!  Yes, you can work in the standard "warm glow," "romantic ambiance" and "soothing relaxation" later in the copy, but for the opening paragraph especially, you need something that really grabs. Here are some other examples of opening sentences that work.
Your point is not that candles give a warm glow. Your point is that your customers can find candles at your website that don't have the same, old, boring scents other stores carry.
Don't stall and hem haw around by telling customers what they already know.  Capture your visitors' attention right away with some opening copy that makes them want to read more.
Want more from-the-trenches copywriting help?  Subscribe to Karon's copywriting blog at https://www.marketingwords.com/blog.  Want Karon to write online copy for you? Visit https://www.marketingwords.com.