Want Better Conversions,
Higher Rankings & More Sales?
Write Better Copy
Website owner? Professional copywriter? Copywriter wannabe? Look over my shoulder as I show you all the tips & tricks to this easy system.
Transform your site from an endless monthly expense to a profit-generating asset.
Entice site visitors to take the action you want them to take.
Create a profitable flow of visitors from the engines to your site.
Discover the most up-to-date, Hummingbird-, Penguin- and Panda-friendly copywriting techniques.
Apply these strategies to ANY type of website including B2B, B2C, ecommerce, product sales, service sales, ebooks and other information products, software and more.
Discover 28 different ways to position your products/services as the obvious choice for your target customers.
10 online videos broken down into manageable segments.
Real-world examples of profitable sites.
Before and after copywriting makeovers.
In-depth case studies.
Cheat sheets, worksheets, planning guides & more.
Permanent access: no expiration date.
"We've worked with Karon for years and understand firsthand the value she brings through her training. Her Step-by-Step Copywriting Course is a stellar example of easy-to-understand yet enlightening material that will help your website gain more conversions and higher rankings."
Mal Darwen, Product Manager, Wordtracker
Getting more conversions/sales is
what the Step-by-Step Copywriting Course is all about.
Your goal, as you go through this step-by-step copywriting training, is to develop your website, conversion & search engine copywriting techniques to the point that you don't merely put words on a page.
Instead, you create a plan based on your precise target customers. Your copy will be specifically geared to speak to, make a connection with and persuade your customers to click, call, subscribe or buy.
And with all the tips, tricks and tools I give you… creating this kind of response to your site is easier than ever.
"And What About Ranking with the Search Engines?"
Don't be fooled. Copywriting is not one-size-fits-all. And SEO copywriting isn't about just stuffing hundreds of keywords into the content on your site's pages. In order to make search engine copywriting work, you have to find the balance between what the customer wants and what the search engines need.
And you will! It's all laid out for you in a logical, easy-to-understand manner so you know exactly where to put keywords without ruining the flow or message of your copy.
Does the Step-by-Step Copywriting Course really work? Just ask Skip…
If you want better results from your copy, investing in this web / SEO copywriting course can pay off big time!
You Get 10 Online, Video-Based Modules Complete With Real-World Examples, Cheat Sheets, Checklists and Resources
Each module is laid out in logical order so you literally go step-by-step through the exact same copywriting process I use for my clients.
Module 1 – Unlocking the Communication Preferences of Your Customers
The most important (and overlooked!) aspect of copywriting.
How to adjust your message to suit your specific website visitors.
What the DISC profile is and how it makes your copy significantly more powerful.
The 4 personalities of customers and how to get them all to respond to your copy.
How to avoid one the biggest (and most common) copywriting mistakes.
Your own, natural attributes that allow you to automatically tailor your sales message without even thinking about it.
7 simple ways to unlock vital information about your customers so you can write copy that flips their buying triggers.
Module 2 – Creating Your Unique Competitive Advantage (UCA)
Discover why customers should buy from you and not your competition.
Unlock what's different or better about your products/service.
Learn how toothpaste helps define your UCA so it's easy to understand.
Overcome the 3 biggest (and most harmful) mistakes when it comes to your UCA.
28 ways to position yourself as the obvious choice for your customers.
The 4-part test that reveals whether your UCA is great or garbage.
CASE STUDY: Watch & learn as I dissect one client's devastating mistake in choosing his unique competitive advantage.
Module 3 – Letting the Copy Write Itself
THE most hazardous mistake pro & amateur writers make that can all-but ruin your copy.
How to create a "list of lists" that outlines everything needed to write professional-grade copy that pulls.
An easy test to determine whether you have multiple audiences (segments) and how to write to each.
The steps EVERY person goes through when deciding what to buy… and how to sway that decision!
Module 4 – Features, Benefits & End Results
What features & benefits really are (many people have them backwards!).
7 steps for turning features into sales-generating benefits.
The end results (aka "hidden benefits") that draw people to your product or service.
Why the question, "So what?" should be asked repeatedly when writing copy.
Module 5 – Speaking Your Customers' Language
The little-known copywriting secret for finding (and using) your customers' own words to build solid-steel connections.
How to pick up on (and repeat) the subtle, but powerful, emotions your customer is feeling.
5 quick places to discover what your customer is saying/feeling.
What personas are and why your copy will pull 10 times better if you use them.
Module 6 – Headlines: The Beginning & The End
How to generate an unlimited list of headline ideas for any type of copy.
The real purpose of your headline (most people are clueless!).
Why subheads are one of a copywriter's best friends.
The sneaky little trick for giving your subheads significantly more punch.
How to test your headlines to ensure they are at maximum performance.
Module 7 – The Power Points of Your Copy
How to take advantage of the natural eye movements people use when looking at your site.
7 ways to force site visitors to stop scanning and read what you want them to.
How to add emotional triggers that increase the desire to buy.
17 proven freebies you can give away to encourage more sales.
Module 8 – Writing Enticing Copy That Converts
My proven F.A.C.E. method for deciding the perfect length for your copy.
4 steps to turning ordinary sales copy into a powerful solution your customer has to have.
How working backwards actually brings you better results.
Module 9 – Creating Compelling Calls to Action
Matching your offer with your audience for the best results.
Various call-to-action styles from elegant to obvious.
5 longstanding calls-to-action that can work for you, regardless of your copy style or business type.
The 4 types of action calls and how to use each to your advantage.
Module 10 – Search Engine Copywriting for People and Bots
Get more prequalified traffic from Google, Bing and other engines.
Create a profitable flow of visitors from the engines to your site.
Write web copy that ranks high in the search engines.
Discover precisely where to put keyphrases for maximum results.
Unlock the keys for writing natural SEO copy that doesn't sound forced or repetitive.
Learn how to engage your site visitors and the engines without sacrificing the effectiveness of your message.
PLUS… 4 real-world copywriting makeovers complete with before and after examples.
Ready to get serious about taking an SEO copywriting course, but need to do it at your own pace?
Here's your answer!

Self-paced – Learn on your schedule
This self-paced, self-study course is delivered in 10 modules, each broken down into easy-to-digest, short segments. View them whenever you have a few minutes.
Get step-by-step instruction with lots of real-world examples
You'll look at real-life website examples that show you exactly how to (and how NOT to) write powerful copy.
Hands-on practice
We learn best with practice. That's why I've provided assignments at the end of every lesson so you can immediately use your new skills.
Answers & insights on how I would write the copy
This is a self-scoring SEO copywriting course. Once you've completed each module, you can check the "Answers" document to see how I would complete the assignments. It's easy to gauge whether you're on the right track when you compare your work to mine.
Feedback to guide your progress
You get free membership in the private Facebook group so you can receive helpful feedback from me and other members of the group.
Plus… Helpful Bonuses Designed to Keep You on Track
In addition to the phenomenal information and techniques you'll learn from the Course itself, there are some valuable bonuses that can help take your copywriting training to the next level.
Access to my Private Facebook Group exclusively for Copywriting Course students. Brainstorm, ask questions, get advice, communicate with other website owners, copywriters and marketing managers about all things copywriting.
Bonus worksheets, cheat sheets, checklists & more for each session These quick-reference documents make it easy to remember everything you've learned. Apply them to every type of copy you write from short ecommerce product descriptions to long sales letters.
Permanent Access to the Course This is not a monthly-access product where you lose all the material if you cancel. Unless you ask for a refund, your single-user license grants you permanent access to this web / SEO copywriting course.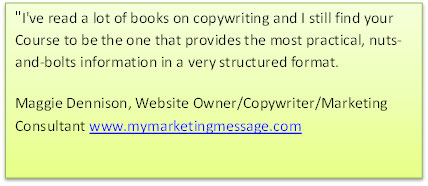 Websites that rank higher and convert better are in your immediate future.
Write web page after web page that ranks high and converts visitors into paying customers. This is the starting point for improving the response to your copy once and for all.
30-Day, Risk-Free,
Money-Back Guarantee
Try it out for yourself. Use what you've learned to write more response-oriented copy. If you aren't completely satisfied after you've implemented what you've learned, just tell me why within 30 days and your entire purchase price will be refunded.
Who has taken the Step-by-Step Copywriting Course?
Employees that work for…
Order Securely Online Now