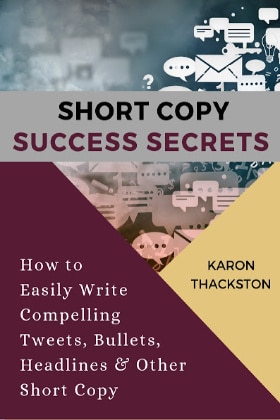 Just $35
Struggling to Get Results from Your PPC Ads, Tweets, Blog Post Titles, Email Subject Lines, Headlines & Other Short Copy?
If you don't nail it up front, the rest of your marketing funnel will crash & burn
Some bit of short copy is usually the first step in every marketing funnel. That's why snippets of text like:
PPC Ads
Tweets
Email subject lines
Bullet points
Headlines
Blog post & article titles
Book titles
And more
…have to be engaging in order to drive traffic to landing pages, blog posts, sales copy and more.
Just think about it: you probably landed here because you:
read an email subject line and opened the message
followed the link in a tweet or other social post, or
clicked a PPC ad
If those short subject lines, social posts or ads didn't capture your attention,
you would have never found this page.
In a world where social media feeds scroll by in real time and inboxes are flooded with emails, your short copy has to stand out in order to work.
If it doesn't, the rest of your marketing funnel doesn't stand a snowball's chance.
In Short Copy Success Secrets, you'll discover insider tips and tricks professional copywriters use to grab attention in just a few words including:
Magic words that make your tweets, PPC ads & more ultra-clickable.
Dozens of ideas for social posts, headlines, bullet points & other short copy.
Sure-fire ways to build curiosity in only a few words.
What the whole point of short copy really is.
Who or what the focus should always be. (It's not what you think.).
What the unexpected goal of all your short copy should be.
Quickie writing strategies that will save you time and headaches.
And more!
Are You Ready to See Better Engagement, Higher Clickthroughs and More Sales?
In Short Copy Success Secrets, you get a:
Detailed video workshop filled with step-by-step instructions plus tons of real-life examples.
14 strategies you can use by themselves or combine for unlimited ways to create enticing short copy for social posts, email subject lines, blog post titles, headlines, opt-in forms and more.
Bonus ebook "Quick-Start Guide to Compelling Calls to Action"
Additional information delivered to your inbox each week to help expand your knowledge and skills. These include blog posts, videos, emails, special discounts and other useful content. Read our privacy policy here.
When You've Only Got an Instant to Grab their Attention and Get the Click…
Powerfully Written Short Copy is Your Ace in the Hole
Just $35

Who is Karon Thackston?
I've owned and operated my own full-time copywriting agency, Marketing Words, since 1999. A large portion of the clients we've helped increase rankings & sales for are ecommerce sites. Now you can take my hands-on experience with turning so-so ecomm sites into profit-generating machines and apply it to your own site.
In addition to working with ecommerce sites (and many others) I've also been a featured speaker at several prominent SEO conferences on the topics of search engine copywriting and ecommerce copywriting.
I've used my expertise to help thousands—from individual entrepreneurs to major corporations—grow their online sales and revenue through strategic copywriting, and now I'll share my "secrets of the trade" with you.
BONUS: Free membership in my private Facebook group where you can ask questions, brainstorm and get the help you need.
| | |
| --- | --- |
| | Jump in and get started today! If after 14 days you don't think this is the best short copy course for you, simply request a full refund. |
Just $35

Have Questions? Contact us for help.