Teacher. Guide. Simplifier of the complex. Since 1999, Karon Thackston has been devoted to delivering high-value training that empowers online entrepreneurs to entice, engage & earn more.
Need to master the art of snappy, short tidbits of copy for social media, headlines or calls to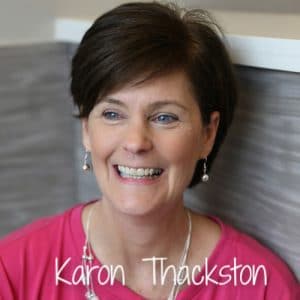 action? Or tackle the multifaceted task of Amazon A+ listings? Ready to free your finances and time by adding a bit of passive income?
From blogging to bucks to online biz, count on Karon to break it down into easily understood steps.
Need a guest who is personable, knowledgeable, and even a bit witty (sometimes)? Invite Karon to be on your podcast or webinar.
Karon Has Previously Been a Guest On…
Serious Sellers Podcast
How To Create An Amazon Listing With The Power of Copywriting  – Episode 22
Power to Live More
Passive Income Hints and Tips – Episode 126
Love People Make Money
Karon Thackston Wants You To Rock Short Copy – Episode 21
The Business of eCommerce
How to Write Better Copy for Product Pages – Episode 82
Mommy Income
Merch Minds 
Merch Minds Podcast with Glen and Yong – Episode 37
The Amazon Files: The Real Truth About Selling Online
Amazon Keyword Strategy with Karon Thackston
eCommerce Marketing Podcast
Creating Compelling Product Descriptions that Captivate & Convert
The Amazing Seller
The Online Rich
Writing Killer Sales Copy That Converts on Amazon – Episode 40
My Wife Quit Her Job
Private Labeler Show
How To Write Amazon Product Listings That Convert Like Crazy w/Karon Thackston – Episode 121
Just Add Hustle
How to Grow Your Freelance Writing Business – Episode 25
Private Label Movement
Keys to Effective Content Creation for Amazon Seller – Episode 212
E-commerce Marketing Podcast
How to Write Product Descriptions That Sell More
E-commerce Momentum
Marketing Words That Matter When Selling on Amazon, eBay and Shopify – Episode 242
Seller Labs
Key Points About Compelling Copy & Keywords on Amazon
Geek Hustle
Interview With Karon Thackston – Episode 37
The Income Highway
PPC Copywriting Techniques – Episode 60
Voices of Marketing
Copywriting Tactics – Episode 44
Download the media kit for details about visitors, views, reach, and more.