Amazon Advantage: Product Listing Strategies to Boost Your Sales (Ebook)
If you're a private labeler, manufacturer or bundler who sells on Amazon, this can help you rank higher in Amazon's search results and sell more products. Read More
Amazon Listing Lab Testing Group
Have an Amazon listing? Want to make it better? Gradual, consistent testing, tweaking & tracking is the best way to improve rankings & sales over the long term. Listing Lab delivers professionally create, monthly tests for you to implement so you can watch your listings soar! Read More
Review Advantage: Email Strategies for Getting Amazon Product Reviews (Legally!)
Boring old review template not working? See the exact strategies the Marketing Words team uses to encourage reviews our clients by creating customized review request emails. Read More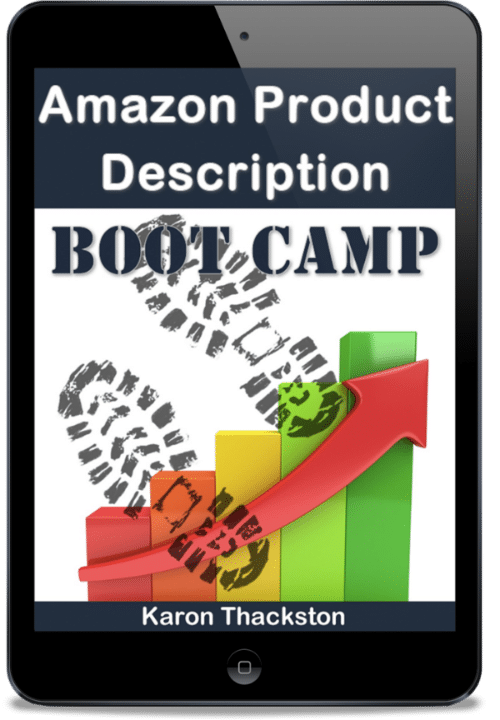 Amazon Product Description Boot Camp (Video Course)
Look over Karon's shoulder and watch as she walks you through strategies to maximize your Amazon keyword research as well as create compelling titles, bullets and product descriptions that help you products rank higher & sell more! Read More
Copywriting Cheat Sheets
Tired of struggling to gather and organize all the vital information you need for exceptional copy? These cheat sheets and worksheets save you tons of time and make the process so much easier! Read More
Ecommerce Copywriting
Ecommerce sites face special challenges when it comes to copy. Whether you're revamping an existing online store or building a new ecommerce site, this will show you simple strategies for boosting sales & search rankings. Read More
Amazon Advantage: Product Listing Strategies to Boost Your Sales
Just putting your book on Amazon won't automatically generate sales. You need a captivating book description that engages readers and helps you rank high in Amazon's search results. "Author Advantage" shows you how. Read More
Step-by-Step Copywriting Course
<Currently Unavailable> Discover the exact same system Karon & her team use when writing exceptional copy for clients like Gorton's Seafood, American Boating Association & more. Self-paced and self-scoring, this copywriting course includes10 online video modules with permanent access.
Writing With Keywords
<Currently Unavailable>Thanks to Google's frequent updates, everything you know about keyword optimization has changed. Writing With Keywords walks you through the simple, 5-step process for creating keyword-optimized pages that are Penguin- and Hummingbird-friendly.
SEO Copywriting Flow: Creating a Steady Stream of Rankings & Conversions
Sold on Amazon

Discover how to create powerful SEO paths for your customers to follow from Google's search results page all the way to your "buy now" button. (Kindle book sold on Amazon.) Read More
How Correcting 3 Common Website Mistakes Increased Sales 86%
Sold on Amazon
There are several common website mistakes almost everybody makes. Stop losing money; scratching your head and wondering how to fix the problem. Cheer up! This book points out the 3 most common mistakes and shows you how to fix them. (Kindle book sold on Amazon.) Read More
Conversion Techniques for Copywriters
Sold on Amazon
What – exactly – are conversions? Most people automatically assume it equates to sales. Not always true. As you write copy, it's important that you fully understand the different types of conversions and how to cause each to happen. (Kindle book sold on Amazon.) Read More
Some ebooks/courses are available in Kindle version. (Noted in description.) Don't have a Kindle device? No problem!
Download a free Kindle Reader here.