Selling on Amazon? Want to Sell More?
It's easy with our proven, professional
Amazon product description copywriting & listing optimization service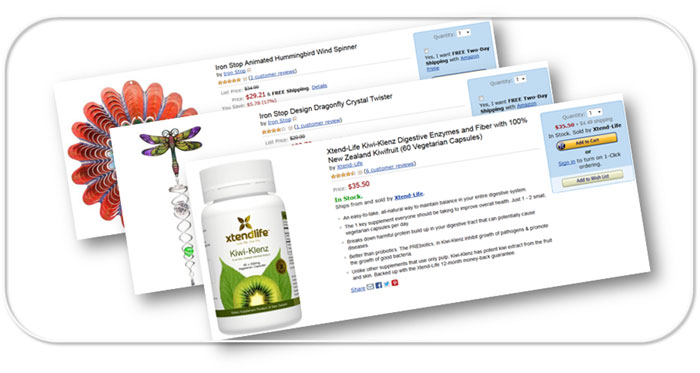 These days, the competition on Amazon is brutal.
Why spend all that time & money creating a product or bundle
then wimp out on the product page copy?
Let's face it. While you can make a ton of money selling on Amazon with FBA, it can be rather expensive to get up and running in this massive marketplace.
That's probably precisely why you added your manufactured, private label or bundled products to Amazon to begin with… the size.  However, while the traffic and exposure alone offer tremendous sales opportunities, making your mark in such a crowded environment can be quite a challenge if you don't understand:
Amazon's rules/restrictions for writing product pages (there are specific do's & don'ts an average copywriter isn't aware of)
Optimization for both Amazon SEO and Google
The mindset of an Amazon shopper/reader and how to appeal to them
How to make your products stand out in a seriously crowded virtual space
Unless you've weeded through the Seller Central help pages (like we have) and had countless conversations with Seller Support, other Amazon professionals and thousands of sellers, you probably aren't aware of how to do this effectively. Positive feedback from our clients lets us know our Amazon product listing optimization service has made a big difference in their ability to sell more.
Good news! The silicone product launched and is doing very well, thanks for your wonderful copywriting. The launch exceeded our expectations and we'll be sure to contact Marketing Words for the next listing we need professional copywriting for. – Tian Gui Lan, Amazon Seller
Your help with the pan has been awesome! We had a great run, have gotten amazing reviews, and had a great conversion rate. Apparently, whatever copy magic you did, worked! We sold almost 1,400 pans in only two months! Woohoo!" — Kathrin & Nathan Spaccarelli
But that's not all. You also have a team behind you that:
Has written over 1,300 successful Amazon listings that have generated millions of dollars in sales
Uses innovative copywriting techniques that intrigue and entice shoppers (never spammy hype that turns them off)
Goes beyond basic keyword research to include additional terms that can drive traffic to your listing that your competitors won't get

We come back to Marketing Words for our Amazon product listing copy and keyword research because they get results! The rates are affordable, the quality is excellent, the process runs smoothly and all our questions were answered in a timely manner. We are very pleased that we've found a new long-term partner for our Amazon business! – Hanny Sunarto

"When you're an entrepreneur wearing so many hats, you have to know your strengths so you can focus on that and pass your weaknesses to professionals who can do the task better. That's why I trust Karon and her team with my Amazon listings – saving me precious time!" – Lulu O.- Amazon Seller

It's great to be working with you again! We are so happy with the last listing Marketing Words wrote for us. We are still using the copy you made for us in our last listing. During the months of April – September we are usually number 1 in our category and got to a record high of rank 126 on the best sellers rank. We have two more products coming out for next summer that we plan to hire your team to do the copy as well, so be on the lookout for more purchases from the Water Buffalo Team! Thanks! – Gio

 [Scroll down to "Client Testimonials" section below to read more.]
Have questions about what's included, the price, delivery time, what you need to provide, etc?
Here's Everything You Need to Know About the Standard Listing Service… 
What's Included with your Standard Amazon Product Description Copywriting?
My existing listing is producing steady sales now, but I want to try & make it better. Can you edit or completely rewrite my listing?
What Does it Cost, How do I Pay and are There Discounts Available?
What is the Process and Turnaround Time?
What Information Are Sellers Required to Provide?
Do You Offer Amazon PPC Ad Services?
Do You Create Listings in Other Languages for Amazon's Global Marketplaces?
--------> IMPORTANT Information: Please Read
---
This is for new standard listings. 
If you are already in Amazon's Brand Registry, here's info on
Enhanced Brand Content listings.
New Standard Listing for Any Category
$339
(2) titles, (5) bullets, Standard description, keyword research. See the "What's Included" section above for details about what this package contains.
♦We do not edit or rewrite existing listings.

New Standard Listing + Review Request Emails
$504