Selling on Amazon? Want to Sell More?
It's easy with our proven, professional
Amazon product description copywriting & listing optimization service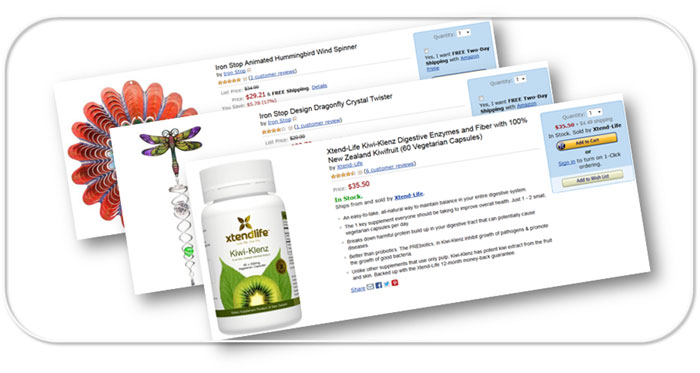 These days, the competition on Amazon is brutal.
Why spend all that time & money creating a product or bundle
then wimp out on the product page copy?
Let's face it. While you can make a ton of money selling on Amazon with FBA, it can be rather expensive to get up and running in this massive marketplace.
That's probably precisely why you added your manufactured, private label or bundled products to Amazon to begin with… the size.  However, while the traffic and exposure alone offer tremendous sales opportunities, making your mark in such a crowded environment can be quite a challenge if you don't understand:
Amazon's rules/restrictions for writing product pages (there are specific do's & don'ts an average copywriter isn't aware of)
Optimization for both Amazon SEO and Google
The mindset of an Amazon shopper/reader and how to appeal to them
How to make your products stand out in a seriously crowded virtual space
According to Adam Coutts of Amazon FBA, there are four vital elements for getting your products to show high in the Amazon search results:
Sales history
Product listing title
Product description
How you use the search fields in your listing dashboard
Unless you've weeded through the Seller Central help pages (like we have) and had countless conversations with Seller Support, you probably aren't aware of how to do this effectively. Positive feedback from our clients lets us know our Amazon product listing optimization service has made a big difference in their ability to sell more.
Here's Everything You Need to Know… 
What's Included with your Amazon Product Description Copywriting?
You'll get the benefit of all the time and effort the writing team at Marketing Words puts into each listing including:
Complete confidentiality. We never share your information or listing copy with others without your permission.
2 unique product titles. The first is 100% compliant to the Amazon Style Guide for your category for length and content. The second is approximately 200 characters or less (read this to find out why it needs to be 200 characters or less), includes more keywords and is more descriptive. You can use either one you choose or test both.
Up to 5 key feature bullet points to highlight the most important benefits of your product (of 200 characters or less each)
Engaging and informative product description (approx. 350 words) with HTML if you prefer
Amazon keyword research

for your product page

with keyword list for 1 product/variation/category (formatted properly with approximately 350 – 475 characters of search terms). We do not provide a service that researches thousands of keywords. This blog post explains why. We do not offer Amazon PPC services. The keyword research we provide is for an Amazon product page and may not work well with PPC campaigns.
Description copywriting that is written for optimization & conversions on Amazon's internal search engine & Google
Firsthand advice about specific Amazon restrictions, sales techniques and more that companies that have never sold on Amazon can't offer
Delivered in a Word document that you can copy and paste from
For Variations: If you have products that offer several major variations which require separate copy for each variation contact us for custom quotes . If you simply have multiple colors or sizes, for example, and each color/size does not require its own separate bullets/description/keywords, this counts as 1 listing. In those instances, we would provide 1 listing that you could then edit on your own to fit each variation.
——–> If you choose to go with 1-listing option, you will receive 1 set of search terms with 2 titles, 5 feature bullets and 1 product description.
The team at Marketing Words has the experience and skills to write Amazon descriptions on every level.  From standard product descriptions for manufacturers, bundlelers and private label merchants to specialized copy for Enhanced Brand Content listings, we can craft your message so that it entices customers to click that orange "Add to Cart" button time and again.

What Does it Cost and How do I Pay?
A standard FBA product page for 1 single ASIN (with no variations) is $269US each. (We do not write book descriptions.)
A listing for health/beauty/supplement/over-the-counter medical products and other items that are designed to cause a physical change if ingested or applied topically is $299 each (1 single ASIN with no variations). We write all of these listings to FDA/FTC regulations. We do not create listing copy that violates FDA/FTC guidelines.
For Variations: If you have 1 parent product with several child variations that are mostly the same with slight differences and you require separate copy for each variation contact us for custom quotes . If you simply have multiple colors or sizes and each color/size does not require its own separate bullets/description/keywords, this counts as 1 listing. In those instances, we would provide 1 listing that you could then edit on your own to fit each variation.
 If you choose to go with 1-listing option, you will receive 1 set of search terms with 2 titles, 5 feature bullets and 1 product description.
We do not discount our Amazon product page services. Why?
While we do occasionally offer coupon codes for our digital products (ebooks, courses, live events, etc.), we never have them for our services. We would rather provide a fair rate every day to every seller of every size regardless of the quantity bought than to require multiple purchases in order to get the best price.
Paypal, Visa, Mastercard, AmEx and Discover are accepted. Use the button below to order a listing or contact us with your questions and we'll get back to you within 1 business day.
What is the Process and Turnaround Time?
Once you decide to work with Marketing Words, use the Add to Cart button at the bottom of the page to process your payment online via Paypal, Visa, Mastercard or Discover. You will be redirected to a page where you can download a questionnaire. (Please don't close your browser after you pay.) A questionnaire will also be automatically emailed to you. It will ask for information about your target customers and LOTS of details about the products you want us to write copy for.
REQUIREMENT: You must have either photos (professional or taken by you) or a sample of the exact product you want us to create copy for. Products that are sort of like yours are not acceptable.
After we have all the details we need, your project will be put on the schedule.
Turnaround time is shown at the bottom of the page, above the add-to-cart buttons.
What Information Are Sellers Required to Provide?
Our Amazon copywriters are excellent, but we can't just make up information about your product and customers. We have to have details from you about:
what the primary features/benefits of your product are
who the product appeals to
how your product is different than other options Amazon visitors might have
and more as a starting point
Then we sculpt those points into compelling copy that is designed to convert shoppers into buyers.
After you order, you will be supplied with a questionnaire to complete and return to us. If you have zero information (or a bare minimum of details) about your prospective customers or the product you are selling, that would make it very difficult for us to create a listing for you.
You must also provide either photos (professional or taken by you) or a sample of the exact product you want us to create copy for. Products that are sort of like yours are not acceptable.
My listing is producing good, steady sales now, but I want to try & make it better. Could rewriting it hurt my current success?
Yes, it could. If you have a high conversion rate (without using ANY promotional discounts or freebies), it is possible that having the entire listing recreated and uploading it all at once might cause an adverse effect. This is because of the way listings are indexed by Amazon and the impact new copy and keywords have on the traffic.
If you want to proceed, what we do is create a new listing that you can then test by implementing the various parts of it gradually and watching the results after each test. Otherwise, our "Amazon Advantage: Product Listing Strategies to Boost Your Sales" ebook or Amazon Product Description Boot Camp video series can be very helpful with creating or tweaking listing titles, bullets, descriptions and search terms. You can use it on your own to conduct tests in an effort to improve your conversion rate.
Do You Offer Amazon PPC Ad Services?
We do not work with Amazon PPC ads or campaigns. The keyword research we provide with listing purchases is designed for product pages and may or may not work well with PPC campaigns.
Do You Create Listings in Other Languages for Amazon's Global Marketplaces?
You can use our copy on whichever Amazon site you wish, but our Amazon copywriters are American English-speakers. You will be responsible for editing or translating the copy yourself into other languages. We highly recommend JR Language. They are experienced in translating Amazon listings and search terms into numerous languages.
Do You Offer Amazon Keyword Research as a Stand-Alone Service?
Yes! You'll get:
Complete confidentiality
Keyword research with a properly formatted keyword list for 1 product/variation/category (approximately 350-475 characters)
We do not provide a service that researches thousands of keywords. This blog post explains why.
Firsthand advice about specific Amazon restrictions, best practices and more that companies that have never sold on Amazon can't offer
Delivered in a Word document that you can copy and paste from
NOTE: Keyword research is included when you purchase the full copywriting services.
--------> IMPORTANT Information: Please Read
—-> Who writes my product listing? Is it outsourced?
Marketing Words is a copywriting agency with 4 talented writers on our team who have been hand-picked and professionally trained by Karon in developing Amazon product descriptions (and other types of copy) that rank high and convert shoppers into buyers. Your copy is written by a highly-skilled member of our team.
—-> Do you have examples of your work?
We only share work from clients that have given us permission to do so.  You can see a few listing examples on our Portfolio page. Just scroll down to the Amazon Product Descriptions section.
—-> Will my listing include HTML coding? 
With the exception of using the <p> tags in listings for the Home/Kitchen/Garden/Pet category, and using the line break <br> tags (for every category), using HTML coding to create bold, italics, colors, bullet lists or other formatting in the product description or key feature bullet sections is against Amazon's terms of service (TOS). However, some sellers still want to use this code because it makes the description easier to read. The choice (and the risk) is yours. We can put HTML in your listing if you prefer. Please note that Amazon has begun taking measures to prevent HTML from being loaded in the product description. Be sure to check that your listing will display HTML.
Here's an example of a listing that uses HTML in the product description.  Here is one that does not use HTML in the product description.
—-> Are your Amazon copywriters qualified to write for supplements and other FDA/FTC-regulated products?
Yes! We have extensive experience in writing Amazon descriptions that stay within both Amazon's and the FDA's/FTC's regulations for advertising supplements and other beauty and health-related products. We do not write listing copy that violates the FDA's and FTC's regulations.
—-> Are there any types of products you don't write for?
We don't write for R-rated, X-rated, adult- or sexually-related products or anything that is or can be used for illegal/unethical/immoral activities. Pretty much everything else is a go.
—-> Does every product have the same restrictions when it comes to creating product listings?
Actually, no. For whatever reason, Amazon has a wide range of restrictions for different product categories and different means of adding products to your inventory. (This is particularly true with titles.) While we'll do our best to help, we strongly suggest you check the categories you are selling in and know what's allowed so you don't violate Amazon's terms of service. Do not depend on what is shown for title character counts in Seller Central. It is often wrong.
—-> Do you write book listings for authors?
Book listings are very different than product listings. We have a training product ("Author Advantage: How to Create Books Descriptions that Sell") to guide you as you write your own book listings, but we do not create them as a done-for-you service.

Client Testimonials
"We have been selling our Ceregumil Vitamix brand for more than a year on Amazon without any success. We tried PPC ads and using a variety of copywriters with no improvements. Finally we decided to choose Marketing Words based on a recommendation. As we were working with them, we asked for certain things to be done and they graciously explained why this was not a good idea, what other clients had seen happen, etc. so we knew they were looking out for our best interest. Marketing Words stays on top of what is happening with Amazon so they know some of these trends can actually harm your listing.

"Karon and her team promised to have the copy ready on a specific day and that day the copy was in our hand. What's better than on-time delivery? After implementing the new copy we sold the same quantity in just 3 days that it took us 30 days to sell in the past! We are so happy with their services and have seen the proof that our listing is 100% optimized and able to convert! Thank you Karon & the Marketing Words team for our successful Ceregumil Vitamix listing!" – Jordi Martinez, Marketing Director, Ceregumil America
"After 9 months of selling on Amazon I was having problems with my sales. My feedback and reviews were excellent and my conversion rate was good however I wasn't getting any traffic to my listing despite heavy advertising. I decided that the copy perhaps was not up to the challenge and needed a professional to go over it. I had heard of Karon at Marketing Words through a podcast that I listen too and decided to give her team a go. With in 1 month my sales had literally doubled in a time where most peoples sales were the slowest for the year. Each month since has seen stronger growth. I would highly recommend Marketing Words' service to anyone and will use her for all of my listings in the future." – Adrian Paschkow
We had a great experience working with Karon and the team at Marketing Words. Their process is efficient and they provided exceptional content for our new product listing. I'm familiar with and have written sales copy in the past, and the listing the Marketing Words team provided exceeded my expectations and surpassed anything we could have created in-house. We generated sales of our brand new product from the day we launched the listing and quickly climbed the organic search rankings. Our conversion rates were high enough to run profitable pay-per-click ads before we had any reviews and within 10 days of launching we were ranked #2 for our primary keyword. We're planning to work with Karon and team for our Amazon product listings going forward and we've recommended them to numerous sellers. – Kevin Pellegrino
"Your help with the pan has been awesome! We had a great run, have gotten amazing reviews, and had a great conversion rate. Apparently, whatever copy magic you did, worked! 🙂 We sold almost 1,400 pans in only two months! Woohoo!" — Kathrin & Nathan Spaccarelli, DaTerra Products
"Thought I would let you know how our sales have gone since your work. I did a little advertising and got 10 sales. I also raised the price 17%. We were selling at a rate of 2 per day before the listing change. When we ran out of stock, we were selling at a rate of almost 12 per day! I would say the changes your staff made were pretty effective, wouldn't you? – Michael Wethington, My Travel Tubes
"I am an Amazon seller and have 4 SKU's on Amazon's marketplace. I have typically created my own listing in the past or have hired other guys. For the first time I used Marketing Words for my listing and I am totally coming back for all my future SKU's. The input which they required from us before they began to write listing is an amazing process by itself. It really makes you think. The better the information you provide, the better the final output will be. Karon and her team have done great job. They also listened to my feedback and tweaked the listing. Great work! Yes, it's more than I had usually paid, but quality does not come cheap. Thank you Marketing Words!!" – Nilesh Makhija
"I have worked with Marketing Words on a few products at this point. It's the best money you can spend on your business. The value provided makes it a rare no-brainer. Even if you think your copy skills are sublime, if your business skills are even mediocre you will outsource your listing copy to Marketing Words." – Jake Hamilton, Better World Pets
"Thank you for the great work and service you provide because I could never have written anything that would even have come close to the quality job you have done for me ." — Mike O'Sullivan
"All I can say is that we were VERY pleased with the results of the product listing Marketing Words created for us. Our conversion rate increased about 18.8% and the only changes were to our text and search terms. They are easy to work with and extremely knowledgeable about Amazon questions we had. For the great service and exceptional results, we will definitely be back for more. Well worth it!" — Christina Harris
We have had the Marketing Words' team write several Amazon product listings for us. The results are always great! I appreciate their attention to detail, expertise in finding highly searched keywords plus those little gems that drive traffic and – most of all – the RESULTS! I plan to use Marketing Words for a long time because I'm convinced their service helps boost our traffic and conversions. – Danielle Pollanz
Having spent a lot of money to educate myself about selling on Amazon it was clear that one of the fundamentals was good copy. If the words aren't right then you are missing out on sales and, in the jungle that is the Internet, that can be fatal.

I felt fairly sure I could write a description but later realized my efforts would have almost been useless as, despite all of my research, I knew far less than they did at Marketing Words. (That was apparent as soon as I saw the finished text.) They are really easy to work with and the process was efficient, professional and delivered ahead of time. I am on page 1 frequently for my product and am certain it is because I have the right words in my description.

I will definitely work with Marketing Words in the future for all my product descriptions, as they know how to find their way through that jungle! – Glyn Williams, Amazon Private-Label Seller

——> An Update From Glyn: We have been a bit naive and made a true rookie error with our latest listing. Amazon in their wisdom have decided to delist this product on the basis that we included a prohibited disease claim. We thought we would make a small amendment to the listing your team wrote as we experimented with how things work and it has bitten us quite hard on the backside! We felt the change was benign but clearly Amazon doesn't.

What this tells me is why we employed you in the first place and the depth of knowledge required to even begin writing a description in this minefield of a category of health supplements. Anyway I did want to say thanks for doing things the right way and a lesson learned for us going forward.
We come back to Marketing Words for our Amazon product listing copy and keyword research because they get results! The first product we used them for is selling very well (with a 17 % conversion rate for the first month). The rates are affordable, the quality is excellent, the process runs smoothly and all our questions were answered in a timely manner. We are very pleased that we've found a new long-term partner for our Amazon business! – Hanny Sunarto
I started trying to sell a product on Amazon in August of 2015. Once I'd done everything all the gurus said to do— discounting it, putting it on review sites, and running a big promotion — sales dropped off again and I was stuck with a bunch of inventory that wasn't moving. I literally wasn't even selling enough units to cover the cost of the $40 a month fee Amazon charges to be a merchant. I knew I had a lot of competition in my market but I believed I could still sell the product. After an objective analysis, I decided my Amazon page wasn't as good as it could be.

Enter Karon and her team. Not only does Karon offer some great products to teach people how to increase conversions and make their sales pages look better but for those of us who don't have time for the DYI, she offers a done-for-you service. The price point was reasonable so I decided to give the service a try.

Karon and her team got me the new sales page ahead of their projected timeframe. It took less than a week for me to start noticing a difference. Sales started trickling in one or two at a time, which was a tidal wave compared to before. My CPC campaigns were at 300% Cost of Sale. Now they're at 59%. Needless to say, Karon's services pay for themselves. They sure did for me.

I cannot thank her and her team enough for the help. Their good work, helpful advice, and timely production took me from desperate to relieved. I'm so grateful I found her – Ernie Dempsey
"Marketing Words is my absolute go-to for Amazon copy. I trust and rely on them because they know what works best with Amazon for Amazon listings. They are great to work with and I truly felt that they cared about the success of my products. I will continue to use them for all future products!" – Jordan Hansen, Cucitella.com
"If you need help with your Amazon product description, look no further. Marketing Words' professionalism, accuracy and quality gave me the certainty that we have a highly optimized product listing. We will launch this product knowing that our listing will totally stand out from the rest.

I would recommend Marketing Words to anyone who wants professional service and exceptional work with their copywriting. You will be working with the best." -Erika Lesavage, Stellar Corp.
---
Our current turnaround time is approximately 2 weeks
from the time we receive all your information.
This page is updated whenever delivery times increase or decrease.
We are not able to offer rush orders.
---
NOTE: These are standard listings. If you are already in Amazon's Brand Registry, here's info on
Enhanced Brand Content listings.
Standard Listing
$269
For products not in Health or Personal Care with the exception of aesthetic cosmetics such as nail polish, mascara, etc. or tools (clippers, brushes), etc.
Health, Beauty or Personal Care Listing
$299
These include supplements, essential oils, anti-aging, acne, pain relief, hair growth & other products designed to deliver any type of physical change in people or pets.
Keyword Research ONLY
$99
Keyword research is included with listing services.
Standard Listing + Review Request Emails
$464
Health, Beauty, Personal Care Listing + Review Request Emails
$494